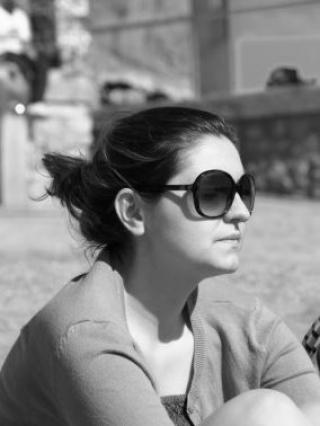 ---
Po urodzeniu dziecka: szybki powrót matki do pracy czy długie macierzyństwo? Stereotypy kontra badania naukowe – rozmowa Magdaleny Smyk-Szymańskiej z...

Mówimy: nie ucz ojca dzieci robić. A może powinniśmy: naucz ojca dzieci… bawić. O to, co z tymi ojcami pytamy Magdalenę Smyk-Szymańską.

Czy kobiety są tak samo traktowane w miejscu pracy jak mężczyźni? Magdalena Smyk-Szymańska sprawdza to na przykładzie szefowej i szefów Fed GRAPE|Tłoczone z danych dla...

Czy kobiety pomagają kobietom… w męskim świecie? Gościnią drugiego odcinka podcastu GRAPE |Tłoczone z danych jest Magdalena Smyk.

Co jest kluczowe dla przyszłości dziecka? Czas, który poświęcą mu rodzice? Zaangażowanie w jego edukację? A może wystarczy duży spadek? Felieton GRAPE|Tłoczone z danych dla...

Jak odróżnić pracownika, który lubi dużo pracować od tego, który jest do tego zmuszany? – w Radiu Nowy Świat opowiadaliśmy o wynikach naszych badań z...

Porównania luki płacowej w zarobkach kobiet i mężczyzn między państwami są problematyczne, a wyniki trzeba traktować z ostrożnością – tłumaczą Magdalena Smyk-Szymańska i...

Czy wysłać zgłoszenie na ofertę pracy, gdy pradodawca oczekuje niebieskookich, a mamy zielone oczy? GRAPE|Tłoczone z danych dla DGP.

To nadal rzadkie, żeby myśleć o danych w perspektywie kilku pokoleń. Ale da się. W Austrii. GRAPE | Tłoczone z danych dla DGP.

Empatia, dwa oblicza altruizmu - co ekonomia czerpie z psychologii? GRAPE | Tłoczone z danych dla...

Dłuższe urlopy ojcowskie to same plusy. Dlaczego nie są popularne? Felieton dla ...

Aż 30 proc. firm, które odnotowały stratę, nie korzysta z możliwości odliczenia jej od podstawy opodatkowania CIT w kolejnych latach. To jednak nie oznacza, że mechanizm ten nie...

O Dniu Ojca pamietamy, a o urlopach rodzicielskich dla ojców? GRAPE - Tłoczone z danych dla DGP...

Prawo do pomocy w poszukiwaniu pracy jest wpisane w konstytucji. I co z tego? GRAPE-Tłoczone z danych dla DGP.

A kogoś kto lubi dyskryminować swoich pracowników? GRAPE-Tłoczone z danych dla DGP.

Earnings inequality displays very different time trends than household income inequality. New paper published on Social Indicators Research.

Pewność czy adrenalina? Dorośli wybierają różne warianty, m.in w zależności od ról społecznych. A dzieci? GRAPE-Tłoczone z danych dla DGP...

Płeć oraz atrakcyjność fizyczna nie mają znaczenia kiedy prosimy o drobną pomoc pracownków naukowych - wyniki najnowszego eksperymentu terenowego w projekcie GendEQU
---
---
---
Opublikowane | Published
W toku | Work in progress
---
2023: STATYSTYKA, grupa 14, 15, 65, 66 - kontakt mailowy, wszystki materiały na MS Teams
---
In this project, we created a large set of wage inequality indicators. We used a large collection of individual level data. We acquired over 1600 individual level data for 44 countries over three decades. We provide several measures of wage inequality (Gini Index, mean log deviation, log of 90/10 percentiles, log of 90/50 percentiles, log of 50/10 percentiles, log of 75/25 percentiles) for each country and year.
Praktycznie żadna firma w Polsce nie płaci 19% CIT. A jedną z głównych przyczyn tego stanu rzeczy jest tzw. mechanizm rozliczania straty (ang. carry forward).
Losem dziecka, które nie dojada, nie przejęło się niemal 60% dyrektorów szkół, choć to do nich należy zapewnienie opieki w takiej sytuacji. 
60% powiatowych urzędów pracy nie odpowiada na zgłoszenie oferty przez pracodawcę.